FAQ
This is a short list of our most frequently asked questions. For more information about Koipy, or if you need support, Please email us at support@koipy.com
Why Join Koipy?
No more membership cards to carry

All you need is a mobile number to register a koipy account.

Hundreds of membership & rewards to enjoy

Discover your favorite store at Koipy.com, join membership and get rewards.
Q1. How to join Koipy?
Three ways:
a. Visit koipy.com and sign up with your mobile no.;
b. Call 8513 4567, your request will be automatically received (the call will be hang up to save your cost), and we will send SMS to your phone for confirmation;
c. When you visit any local shop that cooperates with Koipy , you can just provide your mobile no. to the cashiers, they will help you join koipy.
(click here to see the merchant list: http://www.koipy.com/shop?language=en_us)
Q2. What's difference among the three ways?
Your rewards are fully based on your unique Koipy account, which is linked with registered mobile no. All three ways empower you to enjoy the same privilege, no difference.
Q3. I have heard K card before, do I still need to apply for it after the registration?
Not necessary, with our new cardless model, all Koipy users can just enjoy all the membership privilege simply with registered mobile no. linked to their Koipy account.
If you want to change the mobile no. linked with your Koipy account, please check Q9 for further help.
Q4. How to be a member of specific shop (e.g., Dessert First) on Koipy?
Three ways:
a. Visit the shop's page on Koipy.com, and click the "Join membership" button;
b. Send the shop's name (e.g., Dessert First) to 8513 4567;
c. Even if you have not joined the shop's membership before visiting, you can just provide your mobile no. to cashiers when at the shop, they will help you finish the joining process.
Q5. How to use my membership privilege for each shop?
The membership rewards plan may vary from shop to shop, you can visit their page on Koipy for details.
To enjoy rewards plan, you just need to provide your mobile no. to the cashiers, they will help you accumulate & redeem rewards while you will receive SMS notification as well.
Q6. How to check the status of my rewards for each shop I join?
Two ways:
a. Login your account on Koipy.com, check out your personal dashboard where you can find all the memberships you ever joined;
b. Every time you use the membership rewards at the shop, you will receive an immediate message about the latest rewards status.
Q7. Are the points accumulated in different shops shareable for each other? For instance, if I accumulate 100 points in shop A, can I use it for redeeming rewards at shop B?
As all the membership rewards are independently managed by different shops, the points you accumulate in one shop cannot be used in other shops.
Q8. I want to be updated about the shop's latest news and rewards plan, how to do that?
To avoid missing news, rewards, events from your favourite shops, we encourage you to complete personal profile on Koipy. With that, you can receive news by email, message at your most convenience.
We warmly welcome you to follow us on Facebook, where you can find coolest stuff happening about Koipy or shops.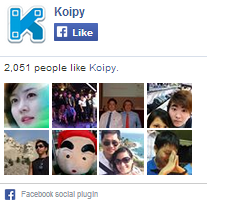 Q9. I will change my mobile no., how could I keep all the rewards I've got with the new no.?
Important tip:
Before changing the mobile no., please make sure you remember the correct password for your koipy account. If not, you might not be able to access to your account since we will only send the verification message to the previous mobile no.to protect your account safety.
How to do:
If you can successfully login to your Koipy account, you can just update your mobile no. in your personal Koipy profile. After the change, all rewards can now applicable via your new mobile no., which will be your new Koipy account login ID as well.
Q10. Will my personal information on Koipy be exposed to any third parties?
Koipy will strictly comply with the " Personal Data Protection Act" to keep your information safety, all your membership information can only be accessed by the shop you join.
Q11. Can I delete my account in Koipy.com?
Yes, you just need to write to our staff by email, facebook, wechat, website or any contact method. We will completely delete your account within 3 working days.