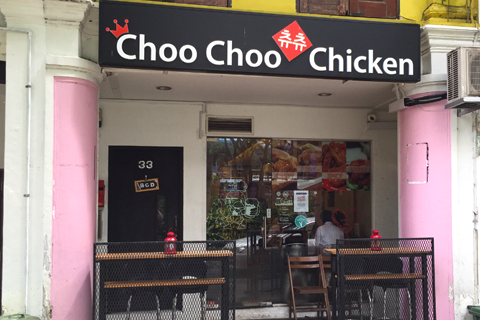 ---
About
The owners of Choo Choo Chicken are big fans of fried chicken. The idea of opening Korean-style fried chicken started when they visited Korea in 2013. They fell in love with Korean-style fried chicken. They loved the chicken that is so tender and moist inside while crispy outside. There are so many variations of fried chicken with different sauces and all taste so well. So, they decided to bring authentic Korean-style fried chicken recipes back to Singapore. Their chef is a Korean lady who is very passionate about her food and she has been in the F&B industry for the last 5 years.

The owners also knew that Korean food culture is pairing fried chicken with beer, so they also brought in some Korean beer too.
---
Recent Recommendations
****9695 at 2017-08-12 20:39 wrote


awesome food!


****8279 at 2017-08-11 16:14 liked this shop.




****1050 at 2017-07-31 17:21 liked this shop.




****2022 at 2017-07-31 13:47 liked this shop.




****2237 at 2017-06-23 18:23 liked this shop.




****2033 at 2017-06-21 18:34 liked this shop.




****7087 at 2017-06-15 14:01 liked this shop.




****4980 at 2017-06-15 13:12 liked this shop.




****1974 at 2017-06-12 14:01 wrote


We used to go elsewhere in the Bugis area for our Korean fried chicken fix, but Choo Choo Chicken offers the crunchiest, tastiest, most value for money option. I dragged my family from Beauty World to CBD, but we always come back to our preferred nook here along Bali Lane. And they give discounts via Koipy too, so add on more Choo Choo rice & flush it down with iced Yuja tea quick, because you'll be left wanting more!


****6870 at 2017-06-08 14:09 wrote


It'll be good if they can expand the shop space.

33 Bali Lane, Singapore 189869
11:30am - 10:30pm last order
---
Member Privileges
$1 = 1 point
Free 0 points for member

*No redemption in cash.
*Tender amount is not refundable.
---
News