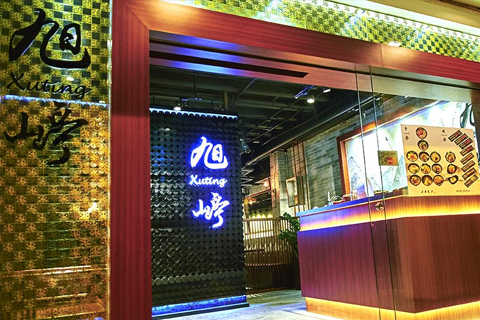 ---
About
Xu Ting is the first chargrilled chuanr (Chinese-style skewers) and fat cow hotpot buffet restaurant in town that cultivates simple intimate dining experiences with wallet friendly pricing. This is a new concept from Guo Fu Hotpot Steamboat, The Most Delicious Fat Cow Meat Hotpot in Town!

By providing smaller plates meant to be shared amongst a close group of friends and family together with a rustic dining ambience, diners can enjoy the finest chargrilled chuanr and individual hotpot that promotes the hygiene and personal preference towards the soup.

Influences are taken from Northeast China as well as Taiwan but we continue to look for interesting ideas and inspiration to keep the flavours true but to take a more modern approach to Chinese cuisine. We also love a good beer and a nice glass of wine to go with our food so we've taken great care to create distinctive libations and to curate a nice little list of wines for you.

---
Recent Recommendations
****1184 at 2017-09-19 15:15 liked this shop.




****9375 at 2017-07-18 15:02 liked this shop.




****0103 at 2017-06-14 12:02 liked this shop.




****7924 at 2017-06-13 14:53 wrote


Nice food and nice environment.its a good place to chill with friends and families. All staff have a good services. Thumbs up for this restaurant.


****3441 at 2017-06-12 01:06 liked this shop.




****8436 at 2017-06-09 21:35 wrote


Their services is extremely good, waiter and waitress is very friendly. The food are very well presented.


****5466 at 2017-06-08 13:50 liked this shop.




****2714 at 2017-05-31 19:55 liked this shop.




****8816 at 2017-05-30 21:29 wrote


Good service


****5681 at 2017-05-30 13:45 liked this shop.



19 China Street #01-01 Far East Square, Singapore 049561
Mon-Thu 11:30am-3pm, 6pm-10:30pm; Fri 11:30am-3pm, 6pm-12am; Sat, Sun, PH & PH eve: 6pm-12am
---
Member Privileges
$1 = 1 point
Free 50 points for member

Free 1 soft drink below $3
Any single item below $10 (excluding drinks)
Free 1 adult hotpot buffet
Get 1 lifetime VIP card (10% off)
---
News